PhotoBin.com helps busy families and consumers of all technical comfort levels confidently manage and share entire photo collections. Consumers archive, organize, photo share and create gifts from their photographs. The site's visually engaging and interactive 3-D Photo Wall feature allows users to view their photo collection in an interactive, fast-paced moving cinematic perspective. PhotoBin.com provides free photo sharing along with subscription-based services for more advanced users.
San Diego, CA (PRWEB) September 30, 2009 -- PhotoBin.com today announces the launch of its photo sharing, archiving and sorting subscription products, including PhotoBin Basic, PhotoBin Plus and photo-customized merchandise. PhotoBin Basic provides free accounts for consumers new to photo sharing, while PhotoBin Plus provides subscription-based accounts for advanced photo enthusiasts and professionals. In addition to its core products, Photobin.com also features the ability to turn favorite photos into affordable gifts, including canvases, prints, mugs and puzzles.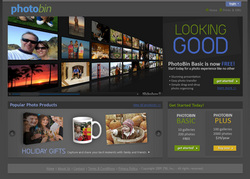 PhotoBin.com offers free basic accounts for photo sharing, archiving, and holiday gifts, as well as a 3-D Photo Wall that does not require a download.
PhotoBin.com's welcome page is the home base for new and returning users. Within the welcome page, the My PhotoBin menu provides a fast and easy path to access all photo organizing tools and help menu items. Public and private options offer users the ability to invite, accept or reject contacts. And consumers can tag and share their photos in personalized Web sites directly from any computer with an Internet connection.
"It's all about making uploading your kid's birthday party pictures fast, easy and fun, and not a tedious chore," says CEO Steve Weber. "It's about sharing moments with your family and friends days later -- even hours later -- rather than months later. And it's about giving photo enthusiasts an amazing look for their own portfolio galleries."
Among its key features, users can toggle between two views: 3-D and 2-D. The visually engaging and interactive 3-D Photo Wall feature allows users to view photo collections in an interactive, cinematic perspective, and without the clutter of advertising. (The 3-D Photo Wall is not a plug-in and does not require a download.) For those who prefer a slower, more traditional view, the 2-D panel is also available.
With its simplified user interface and tech-forward style, PhotoBin.com offers busy consumers a comfortable, fun environment to get organized fast. PhotoBin.com's intuitive drag-and-drop interface and flexible features work for busy moms and dads as well as photography hobbyists and professionals -- from a soccer mom with hundreds of game shots to a photo enthusiast who specializes in nature shots to a wedding photographer with high-volume clients.
PhotoBin.com values its customers' images, using SSL, firewall-protected servers and redundant storage methods, backing up files at co-location centers across the United States.
For more information, visit http://www.PhotoBin.com
About PhotoBin.com
Launched in April 2008, San Diego-based PhotoBin.com is committed to redefining photo archiving, presentation and photo sharing. PhotoBin.com is a friendly, tech-forward provider of accessible visual sharing innovations, including the PhotoBin.com 3-D Photo Wall. PhotoBin.com is a division of Z58, Inc., a photography-focused resource for photography business training, online photo portfolios and products. For more information, visit http://www.PhotoBin.com.
It's all about making uploading your kid's birthday party pictures fast, easy and fun, and not a tedious chore