Press Release
New for the iPhone, the XShot iPhone Case features built-in tripod compatibility that makes it easier than ever to put yourself in the pictures that you snap and share while on the go.
Santa Barbara, CA (PRWEB) October 14, 2009 -- With the growing popularity of camera phones and the rise of social networking, taking and sharing photos while on-the-go has never been easier. While the iPhone 3GS features a great 3-megapixel camera and camcorder, iPhone users still face the age-old problem of trying to take a photo or shoot a video while including themselves in the shot.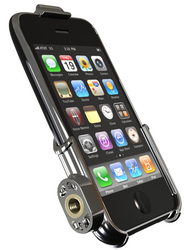 XShot iPhone Case with Tripod Mount
Fortunately, the makers of XShot have come up with a solution for this with the multipurpose iPhone Case and built-in universal tripod adapter. The mount fits standard tripods and monopods, making it easier than ever to put yourself in the pictures and videos you capture and share them.
"Being able to share your experiences instantaneously is part of the mobile revolution, which is why we are seeing devices like the iPhone surpass digital cameras in popularity on photo sharing sites like Flickr and YouTube," said Michael Daoud, co-founder of XShot, LLC. "While the iPhone 3GS makes it possible to always have a camera and video recorder in your pocket, we know there are times when you want to photograph yourself with the iPhone using an XShot or tripod but couldn't - now you can because our case allows you to do just that!"
Unlike other iPhone tripod adapters, the tripod mount is conveniently built into the XShot iPhone Case, which simply fits around your iPhone 3G or 3GS so you don't have to carry an extra adapter around with you. The XShot iPhone Case can also be used in combination with the XShot Camera Extender, which attaches to any compact digital camera or hand-held video recorder to make it possible for people to photograph and film themselves anywhere, without having to do the awkward single-arm stretch!
The XShot iPhone Case retails for $29.95 and will be available in November, 2009. Pre-sale orders beginning October 14 will enjoy a $10 discount. The XShot Camera Extender and the iPhone Case can also be purchased together as a special bundle for $44.95 - a savings of $14.95.
"We are very excited about extending the capabilities of the iPhone, which is one of the most photo-friendly phones today," Daoud said. "It's not as easy to upload pictures for sharing directly from most digital cameras as it is from the iPhone, so I am excited that this product will create additional possibilities for both fans of the XShot as well as anyone who has ever wanted to do more with their iPhone camera."
About XShot LLC
XShot LLC is a leading innovator in the camera accessory market. XShot produces the popular XShot 2.0, a telescopic camera extender that attaches to any compact digital camera or hand-held video camera (including the Flip) so that the photographer can be part of picture too. Everyday photographers no longer have to try and stretch their arms as far as possible to get a picture, let alone capture the background. The XShot 2.0 extends over 3 feet so you can be in the picture and closes to 9 inches to fit easily in a pocket or purse. The digital camera accessory has become popular with travelers, social media users, honeymooners, outdoor lovers, families, and digital scrapbook fans.
The XShot and XShot iPhone Case are available online at http://www.xshot.com